PRODUCT COMPARISON
ALICE vs. Procore
At ALICE, we often get asked "what's the difference between ALICE and "X" software". Once in a while, Procore will come up in conversations, and while our two platforms serve completely different needs within the construction industry, we wanted to take a moment to briefly explain the differences.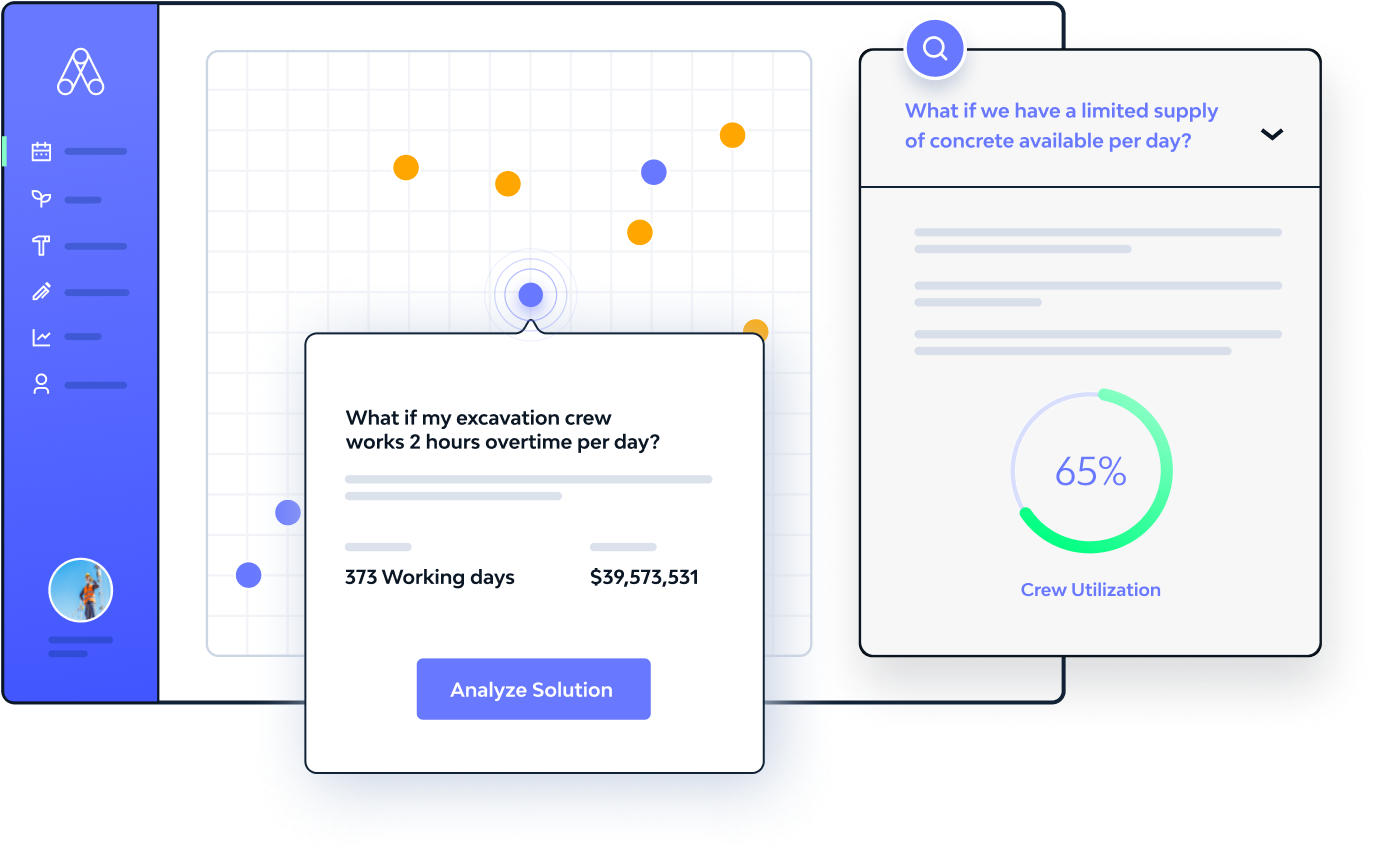 BRIEF PRODUCT OVERVIEW
Let's start at the highest level
About ALICE
ALICE is generative construction scheduling software that utilizes artificial intelligence to optimize construction planning and scheduling. It offers a holistic, data-driven approach to planning and scheduling construction projects and is particularly powerful for complex, large-scale projects.
In fact, at this point in time, ALICE is primarily used on projects with a construction value above $50M (and often much higher), and while commercial GCs use ALICE, the software is used mostly on infrastructure and industrial projects. ALICE can be generally considered a "point solution" as it focuses on planning and scheduling needs.
About Procore
Procore, on the other hand, is a construction management platform designed to streamline construction project management tasks. It provides tools for project management, financials, quality and safety, and field productivity.
Procore aims to connect all members of a project team, including architects, contractors, and owners, on a single platform. It can be considered a "horizontal" platform solution that serves dozens of workflows, from managing RFIs, inspections and incidents on the jobsite to managing invoices for the trades, as well as their overall productivity.
These two solutions do not compete with each other at all. Procore does not offer a solution for optimizing the planning and scheduling of a project. And similarly, ALICE does not solve for the various construction workflows that Procore focuses on.
ALICE and Procore could be both part of an owner or a general contractor's modern tech stack.
FEATURE COMPARISON
ALICE vs. Procore
ALICE
Core Capabilities
Generative construction scheduling
AI-powered optimization
Resource and cost management
Scenario analysis and comparison
Reporting and analytics
Available platforms
Target audience
Large-scale industrial and infrastructure project owners
EPC contractors
Capital project general contractors
Customer support availability
Online knowledge base
Dedicated Customer Success Manager
FAQ and tutorials
Handles implementation for you
Professional services
Pricing
ALICE offers custom pricing based on the type and size of a project or at enterprise-level requirements.
Unlimited user seats
Procore
Core Capabilities
Project management
Construction financials
Quality and safety
Field productivity
Available platforms
Web/Cloud-based
Mobile applications for iOS and Android
Target audience
Small to large businesses with project management needs
Customer support availability
Online support
Call-in
Online community
Product certifications
Can handle implementation for you
Professional services
Pricing
Depends on the number of products/modules you purchase and the total annual construction value you decide to manage with Procore
Why choose ALICE over Procore for construction?
As mentioned earlier, ALICE and Procore serve completely different needs within the construction industry. So there is no need to choose one over the other. Both solutions can be part of a modern construction tech stack, optimizing owners' and contractors' likelihood of success on their construction projects.