Explore numerous potential ways to build your project – before you ever break ground. With ALICE, you will reduce risk as you plan, bid and win more profitable projects.
Metrics that matter
See how ALICE helps the largest GCs and owners increase their project margins and mitigate risks.
Reduction in project duration
INTELLIGENT PLANNING
Plan faster and smarter
Upload a 3D model to ALICE and quickly create a buildable 4D schedule. No BIM model? No problem. ALICE also works with simple block diagrams.
Add transparency to your planning process by connecting your design with your schedule and estimates to visualize all aspects of your construction project.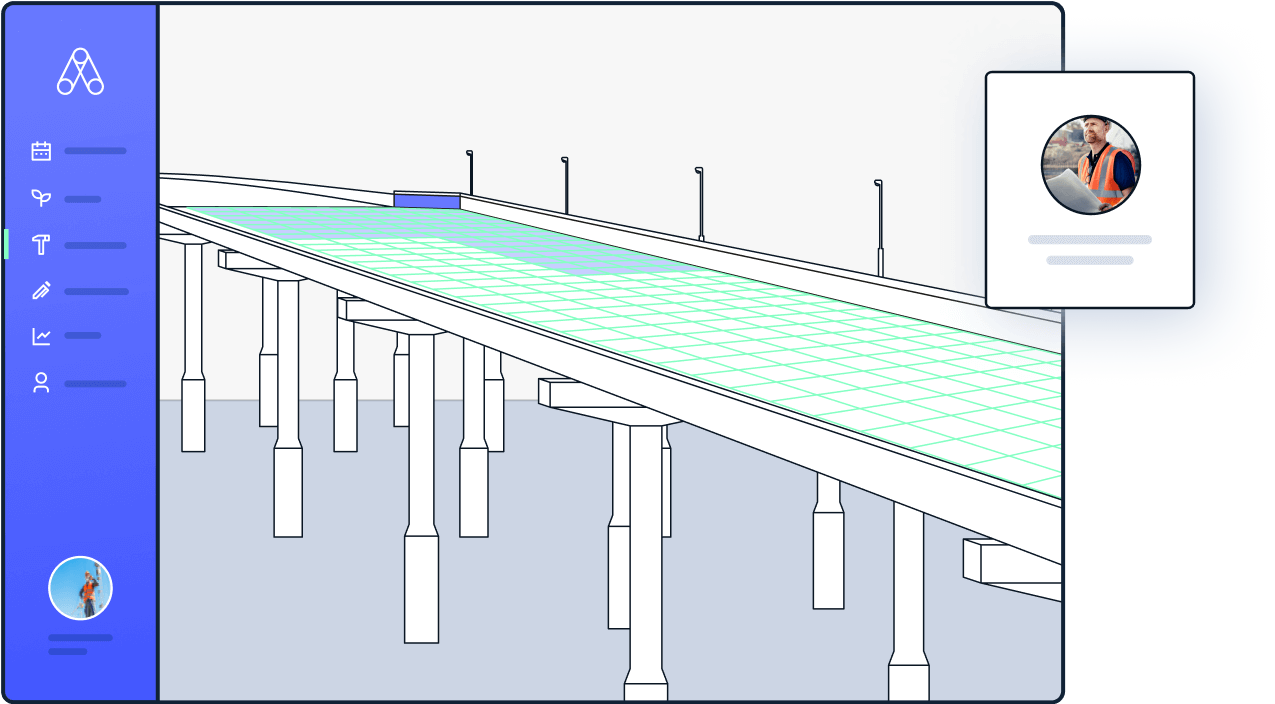 CONSTRUCTION OPTIONEERING
Explore alternatives in minutes
Why settle for a single solution when you can explore thousands?
Through construction optioneering, ALICE will help you to create and evaluate numerous potential solutions based on your project's objectives and identify the best path forward.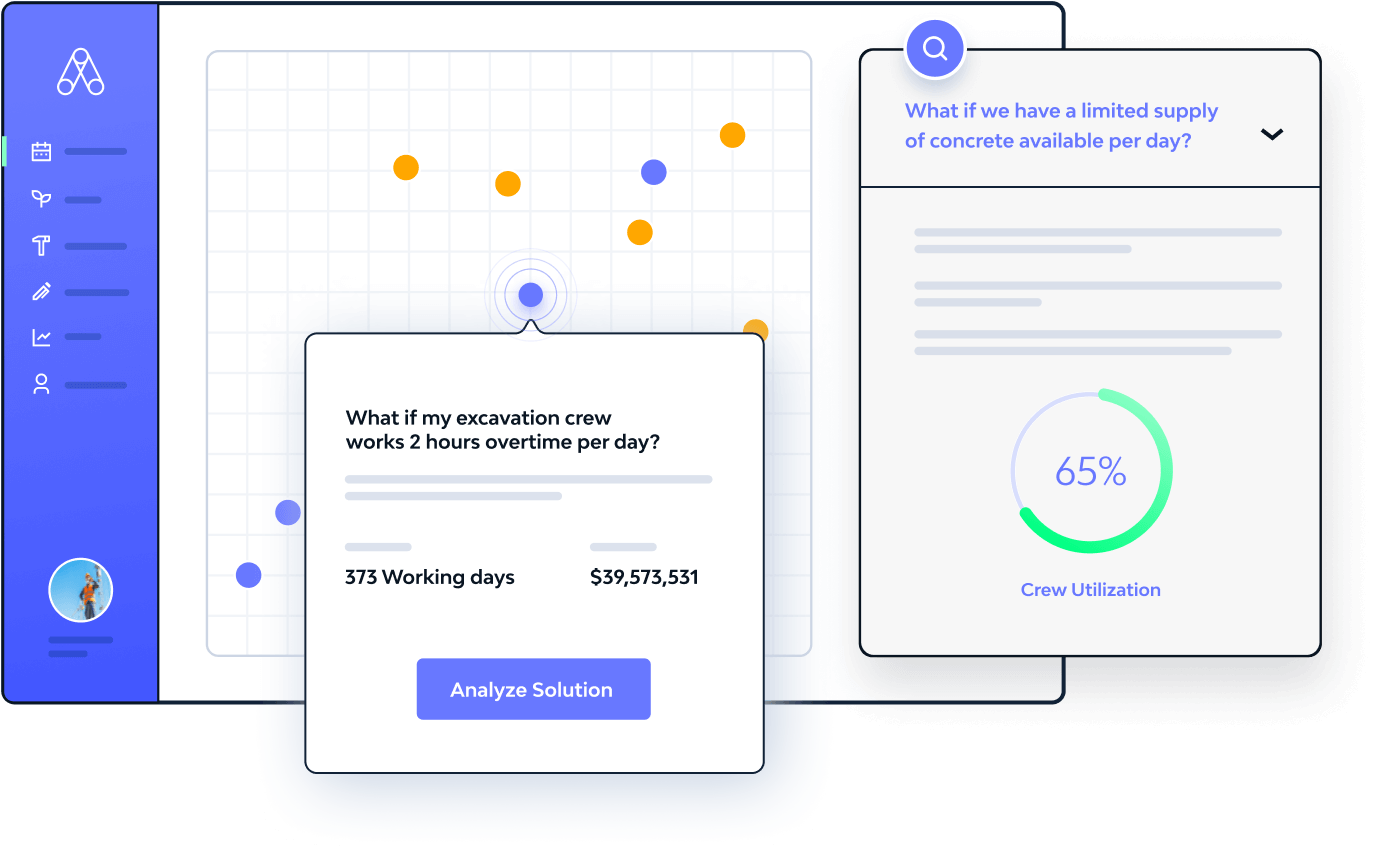 RESEQUENCE IN MINUTES
Recover from project delays
No need to spend weeks modifying your schedule when circumstances change.
With resequencing in ALICE, you can update your plan and schedule in a few clicks and instantly get your project back on track.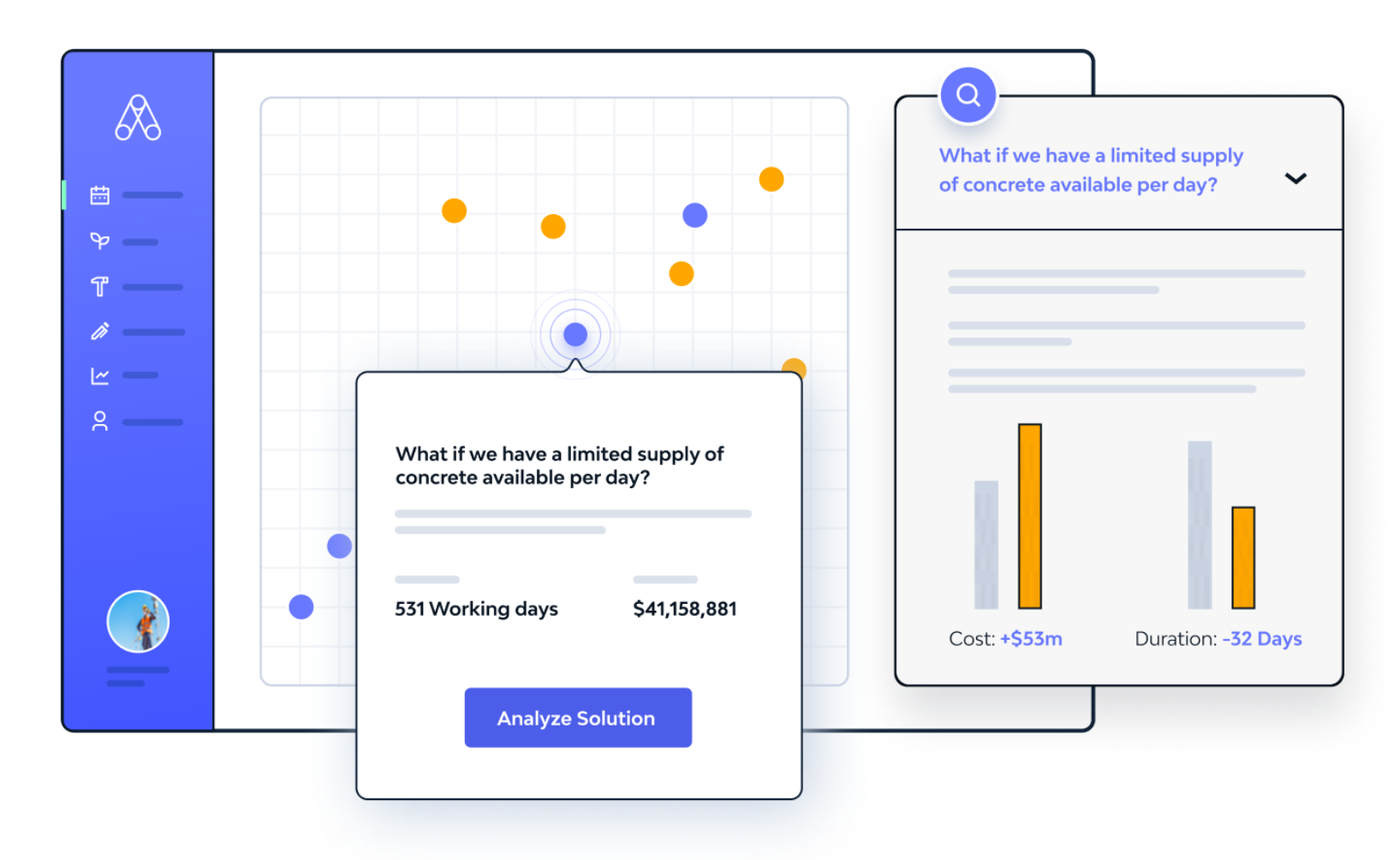 ALICE, YOUR EFFICIENT DECISION-MAKING TOOL
From feasibility studies and production planning to scheduling, ALICE enables you to quantify the impact of different scenarios, helping you to make informed decisions and get to the best plan. ALICE will help you to reduce both your time and cost per decision, so you'll make key choices more efficiently.
ALICE gives you new planning super powers
Construction Optioneering
Transform the complex construction interdependencies into an algorithmic equation that analyzes all possible solutions.
Intelligent Sequencing
ALICE's generative construction software outperforms traditional techniques by leveraging AI to solve complex constraints and intelligently sequence activities.
Project Analytics + Reporting
ALICE offers advanced data analytics for construction - designed to track the information that matters most to your team.
Construction Risk Assessment
Quickly model various types of project constraints & de-risk your project before you ever break ground.
Resource Management
Maximize labor, equipment, and other project resources as you need with ALICE's AI-powered what-if tool
Constraint modeling
Simulate complex challenges, account for all parameters, quickly incorporate changes, align breakdown structures, and manage resources in one place.

"ALICE has enabled us to spend time on optimizing rather than data entry. By exploring millions of possible sequencing options, ALICE is dramatically changing how we plan and execute our projects."
Chris Baze
Senior BIM Manager, Hawaiian Dredging Construction Company
Frequently Asked Questions